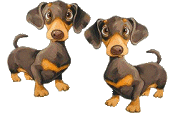 We enjoy making tails wag with our 3 bakery cases filled with doggie delights.
We have a spacious retail area that is loaded with special gifts for dogs and cats and the people who love them. We have searched far and wide for unusual gifts that you will not find just anywhere.
We carry hunting dog supplies, cat treats, tough and interactive dog toys, aromatherapy shampoos and candles, pottery bowls and other unique pet related items. We also have lots of splashy gifts for people who LOVE pets! You will find an extensive selection of dog collars, dog harnesses and leashes to keep your canine stylish, while our cat collars/harnesses will keep your feline looking great. We offer custom engraved tags for your pets as well.
​
We also carry a selection of PrairieDog Tails Fashion Wear for you and your pet, in addition, we also carry Bath and body products from Farm Cottage Creamery for you.
​
We also carry many products that center around the health of your pet, fantastic bakery treats and much, much more!
Do some window shopping to see if there is anything we can interest you in anything.
The Best Pet Food
that we feed to our own pets!
We carry several of the best lines of Dog and Cat Food for all life stages. We highly recommend RedPaw Dog Food for the active/ athletic canine in your life.
We also highly recommend iVet for most dogs/cats and there are several choices and sizes. We carry many Prescriptions Diet formulas and also Veterinary Royal Canin formulas